The cause of this mishap, that is the thing that started it all, were tires that were found to be 36 percent under-inflated. Learjet procedure called for checking the tires before the first flight of each day or every 10 days they are not in use, but they hadn't been checked for three weeks. The Learjet maintenance manual further stipulates that a tire should be replaced if it ever falls below 15 percent. The organization's director of maintenance was unaware of this requirement and it appears the tires on the accident airplane had not be checked in three weeks. An underinflated tire is prone to fail and that's what happened here.
— James Albright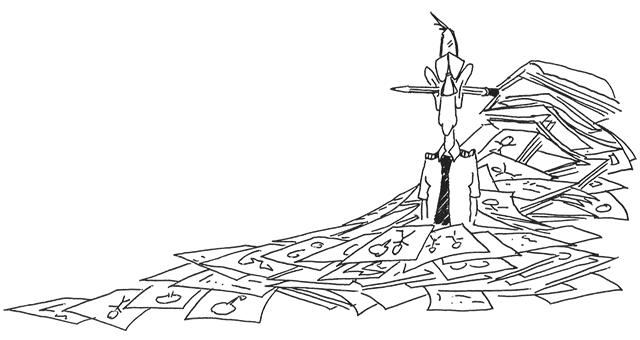 Updated:
2018-02-26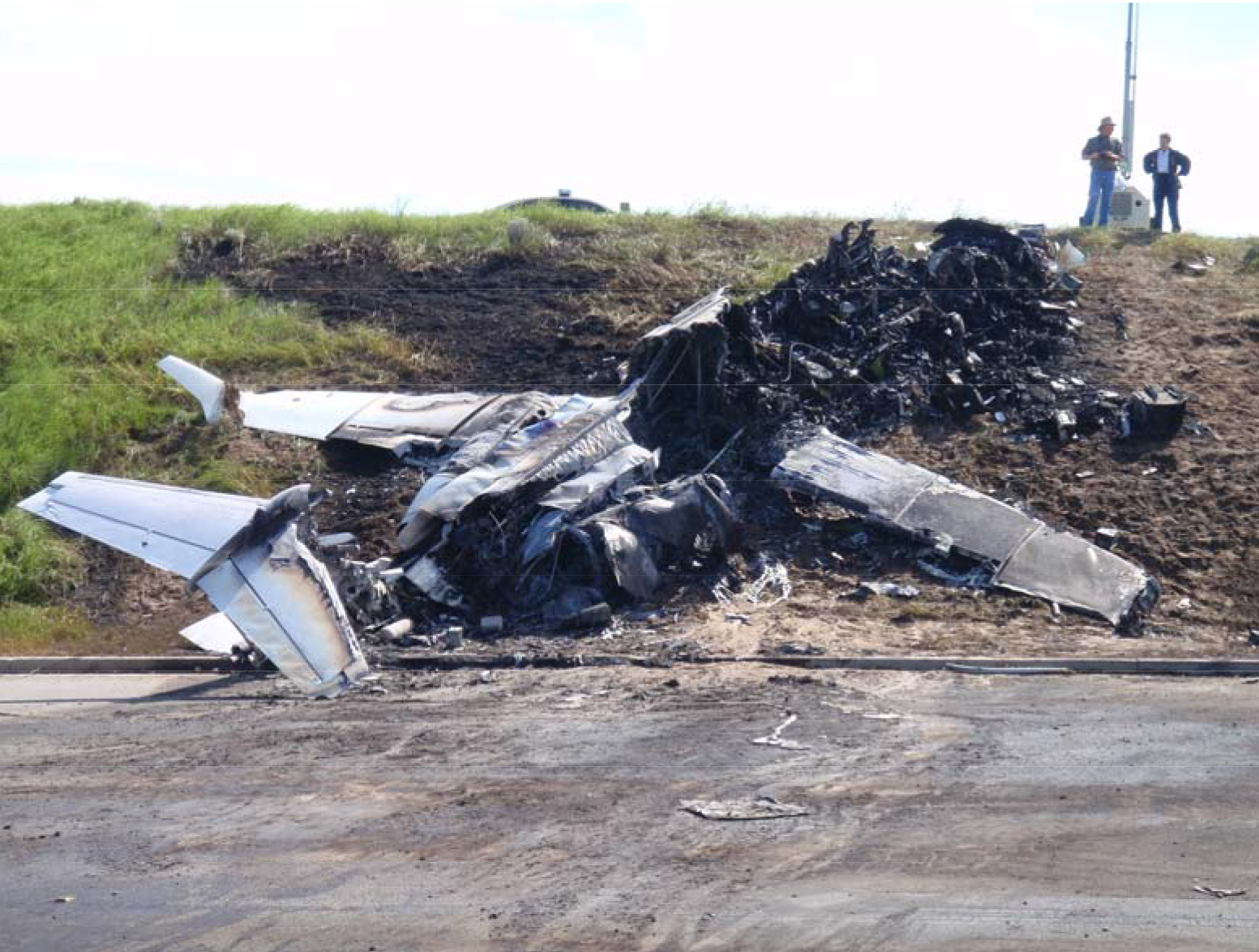 There are more lessons here than just proper tire inflation. The thrust reversers didn't behave as expected due to damage of other systems by the tire. Despite all that, the accident was survivable had proper abort procedures been used. But is all started with the tires.
So let's assume your tires are checked before the first flight of the day whenever you depart home plate. But what about on the road? The NTSB report brought up some interesting points on who can check tires, legally, and who cannot:
In correspondence dated January 8, 2009, Learjet requested that the FAA provide a legal interpretation of "applicable rules in 14 CFR Parts 43, 91, and 135 pertaining to whether a pilot of a transport-category aircraft may check tire pressure during a normal preflight inspection." On February 26, 2009, the FAA's assistant chief counsel for regulations responded that checking the tire pressure on a Learjet 60 airplane is preventive maintenance and not a simple preflight task. The FAA stated that such checks involve high air pressure and require a calibrated gauge that must be used properly to ensure correct readings.
Title 14 CFR 43.3(g) allows pilots to perform preventive maintenance on an aircraft operating under Part 91 but not aircraft operated under Parts 121, 129, or 135. The FAA noted that, "accordingly, a pilot operating [a Learjet 60] under … Part 91 may, in accordance with the provisions of 14 CFR 43.3(g), perform daily landing gear tire pressure checks. Under the same regulation, however, a pilot of that aircraft operating under Part 135 may not perform that task." The FAA stated that any Part 135 Learjet 60 operator that may be adversely affected by the maintenance requirement may petition the FAA for relief from the regulation.
Source: NTSB AAR-10/02, ¶1.18.2.4
I think you should have a firm understanding of the tire pressure loss pattern of your aircraft and measure the pressure when on the road at appropriate intervals. If you are flying under 14 CFR 91, you should have your mechanic train you for the task and equip the aircraft with a properly calibrated gauge. If you are flying under 14 CFR 135, you need to make the appropriate arrangements to have a qualified mechanic perform the task.
Maintenance teams do not always face the same scrutiny as pilots. The FAA performed 159 inspections of one sort or another on this 14 CFR 135 organization but never detected what had to have been a lax attitude towards regular tire pressure checks. Smaller operations, especially those with a single mechanic, are susceptible to the pressure to take short cuts, may lack a quality assurance structure, and can suffer from poor training. These, with the added factor of fatigue, make up what I call: Maintenance Malpractice
Now onto the second problem: takeoff abort procedures. This pilot initiated the abort above V1, thought better of it, and then decided to abort again. The initial abort began two seconds after the first officer called V1. I think had the captain remained committed to the abort, even though it was after V1, they could have survived the stop. But as the takeoff progressed the main landing gear weight on wheels switches were damaged and the thrust reversers stowed and her throttle inputs resulted in forward thrust. They departed the runway well over 100 knots. More about decision speed here: V1.
Why would a properly trained pilot have such a problem with an abort decision after V1? The NTSB report hypothesizes she may have been startled by the unexpected tire failure, which in the cockpit was a loud noise, the right wing dropping a few inches, and vibration. Back in the days when we expected a tire failure now and then you got used to it. These days we need to practice the scenario in a simulator. I think if you have experience with the world falling apart around you, this might not be an issue for you. But if your aviation experience has been nothing but blue skies from the day you started flying, you should make an effort to load yourself up in a simulator.

Date: 19 SEP 2008
Time: 23:53
Type: Learjet 60
Operator: Global Exec Aviation
Registration: N999LJ
Fatalities: 2 of 2 crew, 4 of 6 passengers
Aircraft Fate: Destroyed
Phase: Takeoff
Airport: (Departure) Columbia Metropolitan Airport, SC (CAE/KCAE), United States of America
Airport: (Destination) Los Angeles-Van Nuys Airport, CA (VNY), United States of America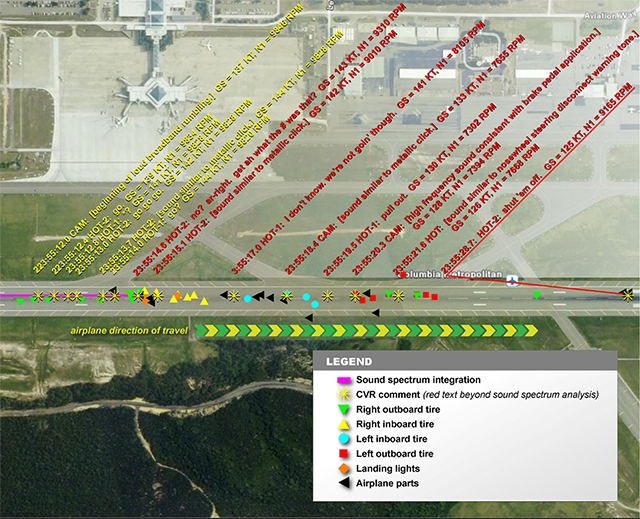 Map of Columbia Metropolitan Airport, showing integrated sound spectrum data, CVR comments, and wreckage locations plotted, from NTSB AAR-10/02, figure 6.
At 2351:22, the captain briefed the RTO procedure and stated, "we've got plenty of runway so we'll abort for anything below eighty knots after V-one and before V-two engine failure fire malfunction loss of directional control all the big things after V-two we'll go ahead and take it into the air treat it as an in-flight emergency." The first officer replied, "correct." The captain asked if the first officer had any questions, and the first officer asked, "reference the ah between eighty and ah V-one you're only ah aborting for the fire failure loss of directional control?" The captain replied, "yes," then added, "or an inadvertent thrust-, ah, T-R [thrust reverser] deployment." The first officer then stated, "that will ah cause the loss of directional control I guess," to which the captain replied, "exactly hah they go together." The first officer later stated, "well eh if the runway is long I abort but if it's short I kinda do different briefing depending on what the length of the runway is but we're pretty heavy so it's probably not a bad idea."
Source: NTSB AAR-10/02, ¶1.1
The captain's briefing is not only contrary to her company's procedures, it is wrong. V1 by definition is the speed at which the abort decision has been made, not V2.
The captain initiated the takeoff roll, and, at 2355:00.1, the first officer stated, "eighty knots. Crosscheck," to which the captain replied, "check." At 2355:10.5, the first officer reported, "V-one." About 1.5 seconds later, the CVR captured the beginning of a loud rumbling sound. Postaccident sound spectrum and airplane performance studies indicated that the airplane's position on the runway at the onset of the loud rumbling sound corresponded with the location where the first main landing gear (MLG) tire fragments were found. Four-tenths second after the beginning of the loud rumbling sound, the first officer stated, "go," the captain stated something unintelligible, and, at 2355:13.0, the first officer stated, "go go go." The CVR recorded a sound similar to a metallic click, and, at 2355:14.0, the captain stated, "go?" Postaccident sound spectrum and airplane performance studies estimated that, about this time, the airplane's ground speed reached a peak of about 144 kts. The first officer then stated, "no? ar- alright. Get ah what the [expletive] was that?" The CVR recorded another metallic click sound, and, at 2355:17.0, the captain stated, "I don't know. We're not goin' though."
At 2355:18.4, another metallic click sound was recorded, and, at 2355:19.5, the captain stated, "full out." Postaccident performance studies indicated that the airplane was decelerating. Within 1 second, the CVR captured a sound consistent with the application of wheel braking, and, at 2355:21.6, the CVR captured a sound consistent with the nosewheel steering disconnect warning tone. Postaccident performance studies indicated that the airplane had then accelerated. About 7 seconds later, the first officer stated, "shut 'em off," and, at 2355:32.4, the first officer stated, "they're shut off they're shut off." At 2355:36.0, the first officer made a radio transmission on the CAE tower control frequency, saying, "roll the equipment we're goin' off the end." The CVR recording ended at 2355:41.1.
Source: NTSB AAR-10/02, ¶1.1
The captain, age 31, held an airline transport pilot (ATP) certificate for multiengine land airplanes with type ratings for Cessna CE-500 (issued on June 18, 2005), Learjet 60 (issued on October 25, 2007), and Cessna CE-650 (issued on January 19, 2008) airplanes.
A review of FAA records found no previous accidents, incidents, or enforcement actions. FAA records indicated that the captain received a notice of disapproval on August 11, 2006, for a practical test for the ATP certificate because of unsatisfactory performance in the non-precision approach and circle-to-land procedures. She retested the same day and passed. On April 11, 1997, when the captain was a private pilot with about 192 total flight hours, she received a notice of disapproval for the practical test for the airplane instrument rating because of unsatisfactory performance of partial-panel very high frequency omnidirectional radio range (VOR) instrument approach procedures and instrument landing system instrument approach procedures. She was retested on April 14, 1997, and received a second notice of disapproval because of unsatisfactory performance of partial-panel VOR instrument approach procedures. She was retested on May 28, 1997, and passed. On November 14, 1997, when the captain had accrued about 252 total flight hours, she received a notice of disapproval for a practical test for the commercial airplane multiengine land certificate because of unsatisfactory knowledge of the national airspace system and airplane performance and limitations. (She subsequently passed the checkride for private pilot privileges for multiengine land airplanes on December 6, 1997, and she passed the checkride for the commercial certificate for multiengine land airplanes on September 1, 2004.12)
The first officer, age 52, held an ATP certificate for multiengine land airplanes with type ratings for Learjet 60 (issued on March 1, 2007) and Cessna CE-500 airplanes. He held a first-class airman medical certificate issued July 18, 2008, with the limitations "must wear corrective lenses" and "possess glasses for near/intermediate vision." According to employment records from Global Exec Aviation and estimates from another employer and a previous employer, the first officer had accumulated about 8,200 hours total flight time, including about 7,500 hours PIC time and about 300 hours in Learjet 60 airplanes (about 108 hours of which were as SIC). In the 90 days, 30 days, and 24 hours preceding the accident, the first officer logged about 42, 34, and 1.5 hours, respectively.
Source: NTSB AAR-10/02, ¶1.5
The airplane was equipped with dual wheel and tire assemblies at each MLG position. Each MLG tire was a Goodyear Flight Eagle, part number (P/N) 178K43-1, size 17.5 x 5.75-8.18 For use on the Learjet 60, the rated tire inflation pressure was 220 pounds per square inch (psi). Applicable tire certification requirements are specified in 14 CFR 25.733 and FAA Technical Standard Order (TSO) TSO-C62c. TSO-C62c specified various tire performance criteria, one of which was a maximum allowable air pressure loss of 5 percent per day for an airplane tire under normal operating circumstances. According to the Goodyear Qualification Test Report (QTR) 461B-3044-TL, the Goodyear Flight Eagle tire documented a daily pressure loss of about 2.2 percent.
Maintenance logs indicated that all four MLG tires were new when installed in December 2007 and had accumulated a total of 20 landings at the time of the accident. Flight history records showed that the airplane had flown 5 days during the 12-day period that preceded the accident. Interviews with personnel from all facilities that handled the accident airplane during that time period revealed that none had serviced or received a request to service the MLG tires. Global Exec Aviation's director of maintenance estimated that the tire pressures may not have been checked for about 3 weeks before the accident.
The contents of chapter 12 of the AMM [Learjet 60 Aircraft Maintenance Manual] related to technical specifications and descriptions of how to perform various maintenance tasks. Chapter 12-10-05, pages 301 and 302, contained the following guidance:
Important inflation practices and tips are as follows: ... Measure the cold tire pressure before the first flight of every day or every 10 day[s] on in-service tires [that] are not in use.... Do not underinflate the tire. An underinflated tire generally cannot be detected visually.
The AMM indicated that a tire should be replaced if found to have operated at an inflation pressure loss of 15 percent.
Source: NTSB AAR-10/02, ¶1.6
The Captain
Tires
Thrust Reversers
Going heads down for a look at thrust reverser annunciators is extraordinarily hard to do, and I would say inadvisable. (Your eyes need to be outside.) It is a good practice to have the nonflying pilot announce thrust reverser status.
Some aircraft will command idle thrust at this point or give an audible warning.
This is obviously a poor design and probably an unexpected behavior.
Rejected Takeoff
At this point an abort could probably have been made successfully, with just one failed tire and enough runway remaining. A continued takeoff, however, would allow the airplane to attempt a landing at a lower weight, a lower speed, and much more runway ahead.
The first officer's "go, go, go" call out was a good one but it needed to be followed up after the captain asked "go?" The first officer could have also been more forceful during the captain's botched takeoff briefing on the very subject of rejecting the takeoff.
The National Transportation Safety Board determines that the probable cause of this accident was the operator's inadequate maintenance of the airplane's tires, which resulted in multiple tire failures during takeoff roll due to severe underinflation, and the captain's execution of a rejected takeoff after V1, which was inconsistent with her training and standard operating procedures.
Contributing to the accident were (1) deficiencies in Learjet's design of and the Federal Aviation Administration's (FAA) certification of the Learjet Model 60's thrust reverser system, which permitted the failure of critical systems in the wheel well area to result in uncommanded forward thrust that increased the severity of the accident; (2) the inadequacy of Learjet's safety analysis and the FAA's review of it, which failed to detect and correct the thrust reverser and wheel well design deficiencies after a 2001 uncommanded forward thrust accident; (3) inadequate industry training standards for flight crews in tire failure scenarios; and (4) the flight crew's poor crew resource management.
Source: NTSB AAR-10/02, ¶2.2
References
(Source material)
NTSB Aircraft Accident Report, AAR-10/02, Runway Overrun During Rejected Takeoff, Global Exec Aviation, Bombardier Learjet 60, N999LJ, Columbia, South Carolina, September 19, 2008