You can get violated for exceeding 200 knots below the lateral limits of Class B airspace and the worst part of that is you can be encouraged to do that by the guy on the other side of the microphone right up until the time that guy violates you.
— James Albright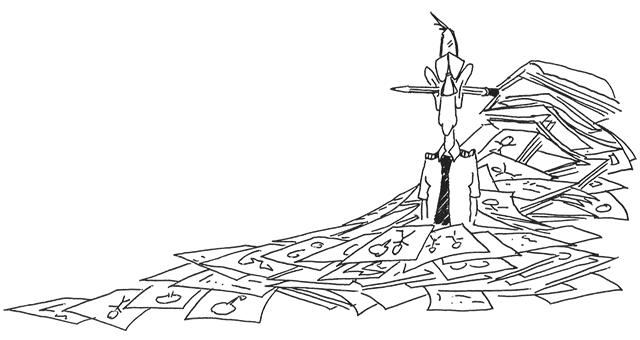 Updated:
2015-09-29
It isn't that the SOB on that side of the radio is out to get you, as much as it may seem. Air traffic control is trying to cram a lot of airplanes in that airspace you are using and they may actually want you flying faster than you should. The problem arises when your speed gets in someone else's way and a computerized program at the FAA flags you. You need to know where that airspace is.
If you want to know about airspace classifications in general, including Class B airspace, see: Airspace Classification.
1 — You aren't being paranoid (they really are out to get you)

1
You aren't being paranoid
(they really are out to get you)
You may have heard of 14 CFR 91.117(c) and you may even know what it says:
But how often do you consciously plan for it? The controller also knows the rule but may not care until the day the sky is crowded with smaller aircraft that are having trouble spotting you in time to avoid a collision. You can be sure that on a day that it does matter the controller's opinion will carry more weight than yours. Consider the San Jose TECKY ONE departure published on January 8, 2015.
If you simply pull up the departure procedure, read the narrative, and mentally fly the solid black line, you can be forgiven for thinking you can accelerate to 230 knots right after takeoff. The first waypoints departing Runway 30 left or right have two restrictions: you must be at least 900 feet in altitude and you cannot be faster than 230 knots. Since we are normally keyed to remaining below 250 knots when below 10,000 feet, we tell ourselves our new target speed is 230 knots until passing STCLR or MLPTS.
The flight management systems on many airplanes will dutifully accelerate to that speed, Class B overhead or not.
NORCAL Departure Control would be fully within their rights to point out that you are flying below the San Francisco Class B airspace and your speed cannot exceed 200 knots under 14 CFR 91.117(c). The fact the Class B is not mentioned or depicted on the departure procedure is no excuse. There have been violations issued and NORCAL has been called several times on the discrepancy:
An even more insidious source of Class B high-speed trouble happens on arrival, when approach control is trying to sequence aircraft for approaches. "Fly 210 till the marker," is a clearance to fly a specific speed but it is not clearance to violate an FAR.
So how do you protect yourself from the unknown Class B area that may be lurking over your head? If your departure or destination lies underneath a Class B area you should print the chart or have it readily accessible in the cockpit. If you can overlay the chart on your avionics you should. You should also add Class B considerations to departure procedure and approach briefings.
What follows is a list that is current as of this writing, but be advised the list is growing. There is an incomplete list in the Aeronautical Information Manual. The real list is in FAA JO 7400.9X Airspace Designation, which you can download below. You can also look on current sectional charts.
Arizona

PHX / KPHX Phoenix Sky Harbor International

California:

LAX / KLAX Los Angeles International
NKX / KNKX Marine Corps Air Station Miramar
SAN / KSAN San Diego International/Lindbergh Field
SFO / KSFO San Francisco International

Colorado:

DEN / KDEN Denver International

Florida:

MCO / KMCO Orlando International
MIA / KMIA Miami International
TPA / KTPA Tampa International

Georgia:

ATL / KATL Hartsfield–Jackson Atlanta International

Hawaii:

HNL / PHNL Honolulu International

Illinois:

ORD / KORD Chicago–O'Hare International

Kentucky:

CVG / KCVG Cincinnati/Northern Kentucky International

Louisiana:

MSY / KMSY Louis Armstrong New Orleans International

Maryland:

ADW / KADW Andrews Air Force Base
BWI / KBWI Baltimore/Washington International

Massachusetts:

BOS / KBOS Boston–Logan International

Michigan:

DTW / KDTW Detroit Metropolitan Wayne County

Minnesota:

MSP / KMSP Minneapolis–Saint Paul International

Missouri:

MCI / KMCI Kansas City International
STL / KSTL Lambert–St. Louis International

Nevada:

LAS / KLAS Las Vegas–McCarran International

New Jersey:

EWR / KEWR Newark Liberty International

New York:

JFK / KJFK New York–John F. Kennedy International
LGA / KLGA New York–LaGuardia

North Carolina:

CLT / KCLT Charlotte Douglas International

Ohio:

CLE / KCLE Cleveland Hopkins International

Pennsylvania:

PHL / KPHL Philadelphia International
PIT / KPIT Pittsburgh International

Tennessee:

MEM / KMEM Memphis International

Texas:

DFW / KDFW Dallas–Fort Worth International
HOU / KHOU Houston–Hobby (Secondary Class B Airport)
IAH / KIAH Houston–George Bush Intercontinental

Utah:

SLC / KSLC Salt Lake City International

Virginia:

DCA / KDCA Ronald Reagan Washington National
IAD / KIAD Washington Dulles International

Washington:

SEA / KSEA Seattle–Tacoma International
References
(Source material)
14 CFR 91, Title 14: Aeronautics and Space, General Operating and Flight Rules, Federal Aviation Administration, Department of Transportation
FAA JO 7400.9X Airspace Designation, U.S. Department of Transportation, August 7, 2013