There isn't much to report here. I include it because it is one of only two incidents involving loss of cabin pressure in a corporate aircraft. The other? Here: LR 35A N47BA.
— James Albright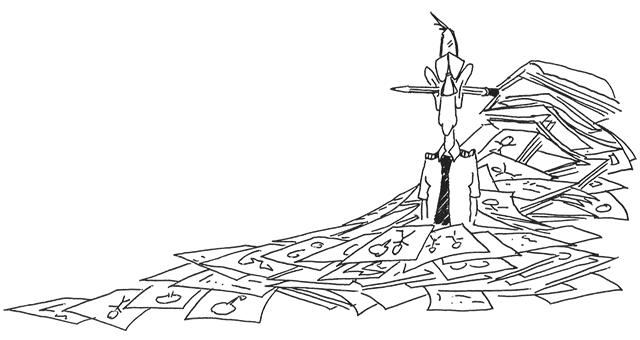 Updated:
2012-05-11

Date: 02 Apr 2007
Time: 1844 CST
Type: 1124 (Westwind)
Registration: VH-AJP
Fatalities: 0 if 2 crew
Aircraft Fate: Repaired
Phase:
Airports: (Departure) Darwin, NT; (Destination) Alice Springs, NT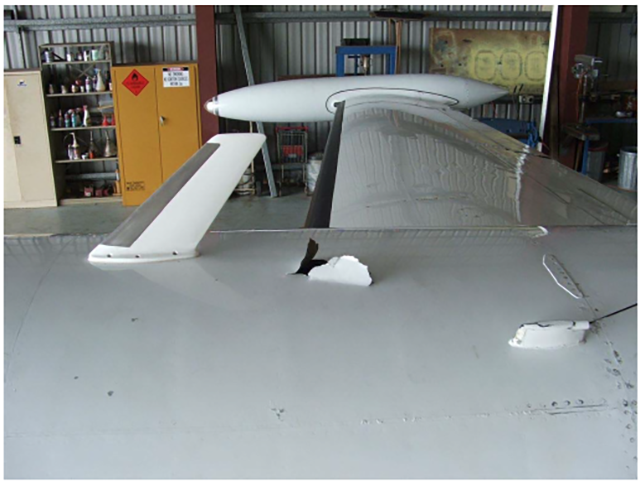 At 1814 Central Standard Time on 2 April 2007, an Israel Aircraft Industries 1124, Westwind aircraft, registered VH-AJP, with a crew of two, departed Darwin Airport, NT on a scheduled cargo service to Alice Springs, NT. At 1844, during climb, at 34,000 ft, the crew heard a series of loud bangs followed by a loss in cabin pressure. The crew donned oxygen masks, closed the aircraft outflow valves and conducted an emergency descent to 10,000 ft. The aircraft was returned to Darwin.
An inspection of the aircraft revealed a hole in a top rear fuselage skin panel. The examination revealed that approximately 60% of the panel had been damaged by exfoliation corrosion. The damage was most severe at the primary site of rupture, in the centre of the panel.
The panel was clad with a corrosion resistant pure aluminium alloy sheet; however, the aluminium cladding was removed on the chemical milled areas. Over time, the coating protecting of the chemical milled areas had deteriorated, leading to the corrosion on the panel.
The panel was located in an area that was not considered susceptible to corrosion, so there were no detailed inspections required for the area. As a result of this occurrence, the manufacturer has issued a notice to all 1124 Westwind aircraft operators informing them of the event and the corrosion that was found. The operator has carried out an inspection of the area on their entire fleet of 1124 Westwind aircraft. Where corrosion was present, the operator replaced the panel. The operator has also included an inspection of the area in their Corrosion Control Program.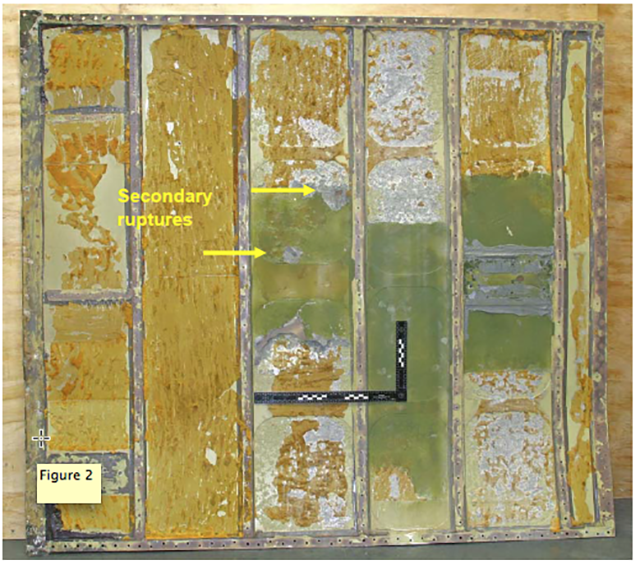 The aircraft was operated and stored in environments favourable to the development of corrosion. The insulation pads attached to the fuselage skin panel trapped moisture close to the skin of the aircraft. The moisture in the insulation pads probably led to the breakdown of the chromate conversion coating. There was no requirement for the fuselage skin panel to be inspected, nor was there any expectation that corrosion would be found on the panel. The insulation pads bonded to the panel made it difficult to inspect the internal side of the panel. Extensive exfoliation corrosion developed on the upper rear fuselage panel. The corrosion in the upper fuselage skin panel was not detected prior to its failure. The corrosion reduced the ability of the panel to resist the pressurisation loads resulting in failure of the panel and subsequent depressurisation of the aircraft.
References
(Source material)
Australian Transport Safety Bureau, Aviation Occurrence Report 200701935, Depressurisation 343 km S Darwin Airport, NT, 2 April 2007, NH-AJP, Israel Aircraft Industries Ltd. 1124 Westwind