The Dutch did an outstanding job on this accident investigation. The report is thorough, very well written, and conveys accurately what happened to bring this airplane down. But it didn't go far enough.
— James Albright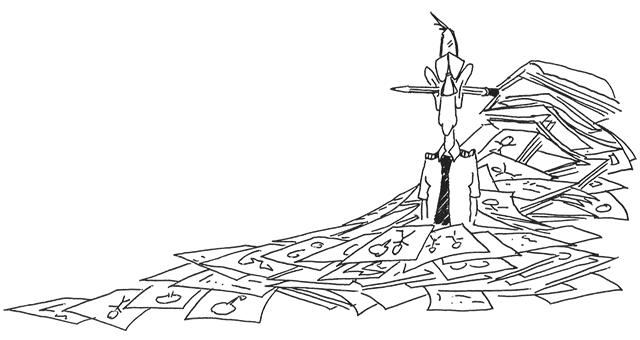 Updated:
2017-05-10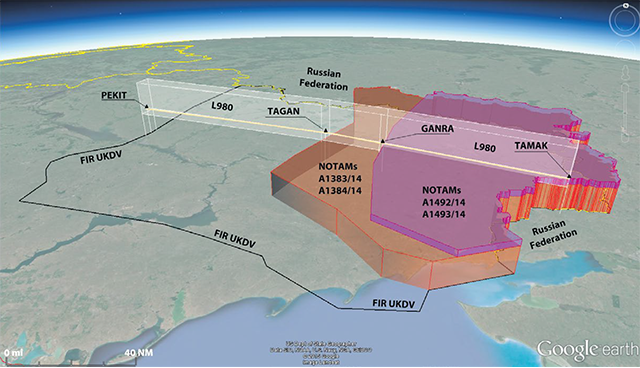 I normally present these case studies with an emphasis on what the pilot could have done to prevent it, so as to help the rest of us to avoid recurrence. I doubt these pilots ever saw the missile and probably died very quickly as the missile exploded right on top of them. Death for everyone seated behind them was not so quick. So what was the problem with this report?
In my view, the aircraft was brought down by a 9M38M1 surface-to-air missile shot from a Soviet-made Buk missile system, just as the report proves. But that wasn't the cause. The cause is an anemic international NOTAM system that failed to convey a known danger to an unsuspecting aviation community. Is there a solution? Yes, see: The Notice to Airmen (NOTAM) System is Messed Up.
The 279 pages of the accident report are a fascinating read. The 176 pages of appendices are also useful, especially the several pages of NOTAMs that were in effect the day of the shoot down as well as those presented the day after. I briefly cover the aspects of the missile just to relate how an investigation must necessarily identify the mechanical cause of the accident as a first step. The report then covers the NOTAMS rather clinically and seems to say "everyone else missed this too, oh well." Well that isn't exactly true. Eight operators knew enough to avoid this airspace while 160 other flights flew right over it. There has to be a better way.
Everything here is from the references shown below, with a few of my comments. Mark Zee from the Flight Service Bureau has an excellent insight on all this: https://medium.com/@markzee/mh17-a-darker-truth-21dc21879fa7.

Date: 17 July 2014
Time: 16:20
Type: Boeing 777-2H6ER
Operator: Malaysia Airlines
Registration: 9M-MRD
Fatalities: 15 of 15 crew, 283 of 283 passengers
Aircraft fate: Destroyed
Phase: En route
Airport (departure): Amsterdam-Schiphol International Airport (AMS/EHAM), Netherlands
Airport (arrival): Kuala Lumpur Subang International Airport (KUL/WMKK), Malaysia
Three days prior to this incident, a large airplane was shot down at high altitude. A day prior, a second aircraft was shot down. Both appeared to have been downed by surface to air missiles.
They appeared to have assumed the only threat was from MANPADS ("Man-portable air-defense systems") which are typically low altitude weapons. This ignores the fact that much higher altitude capable systems were available from former Soviet Union sources.
If you accept the conclusion that the threat is more than just the lower altitude MANPADS, then you need to include the full capability of the higher altitude threats. Many of these had altitude limits near 80,000 feet. As far as I can tell, the 32,000 feet limit doesn't really apply to any of the available weapons. Of the SAMs available in the area the SA-11/SA-17 could reach 72,000 feet, the S-400 could reach 98,000 feet, the SA-6 could reach 36,000 feet, and the S-75A could reach 114,000 feet. MH17 was downed by an SA-11.
This begs two questions: 1) Why not close the airspace completely? 2) If you insist on keeping it open, why set a floor of 32,000 feet? The report briefly covers the fact that Ukraine, as is common practice, was collecting revenue in exchange for the use of their airspace. This amounted to 199 million Euros in 2013, for example. But the report also states that this is only "full cost recovery," paying for the cost of operating the ATC system in Ukraine. Even if that is true, it represents jobs and can still be considered to be in the nation's best interest. The country has a vested interest in keeping the airspace open. So why 32,000 feet? It appears that was the floor for the most common users; if you raise that floor you will have fewer and fewer "customers."
I'm not sure about this. The U.S. did have a warning published but it wasn't explicit enough to prevent one U.S. operator from overflying the Ukraine on 17 July 2014. (Atlas Air). The report claims only one operator elected to avoid the airspace but there is evidence to show that five operators made that decision. What did they know and why wasn't that information common knowledge? (See: Recommendation, below, for more about this.)
The phrase "avoid the airspace" is about as clear as it gets from the normally bureaucratic and overly restrained ICAO. But their recommendation had to do with the bureaucratic infighting over airspace control, not the military threat.
The ICAO was deeply interested in the dispute over which nation owned the rights to administer that airspace, but not interested at all in the threat posed by ground forces against civil air traffic.
"Exercise extreme caution" seems to rise to the level of a "safety warning" but could have been made more explicit.
The most pertinent of these NOTAMs are presented below.
Since it is apparent those who are responsible for reporting on the safety of the airspace are more interested in keeping the airspace open and adhering to political and bureaucratic protocol than keeping that airspace safe, it is up to us to keep up with this kind of news.
6,500 meters comes to 21,325 feet.
We don't know what kind of missile was used to down the An-26.
After the shoot down the Ukrainians simply removed the 32,000 foot altitude limit. The Russians, on the other hand, also added the phrase "DUE TO COMBAT ACTIONS."
The "just one operator" statement is contradicted in the very next paragraph:
The report doesn't consider that the eight operators who stopped overflights earlier for one reason (political instability) continued to not overfly for the other (the armed conflict) and should not be used to buttress the decisions of others who continued to overfly the area.
According to Flight Service Bureau (now OpsGroup), at least four operators bypassed the airspace on that day:
On 17 July 2014, Malaysia Airlines operated flight MH17, an airworthy Boeing 777-200 with the registration 9M-MRD, in cruise flight near the Ukrainian/Russian border at 33,000 feet, under the control of Ukrainian Air Traffic Control and was operated by a competent and qualified crew.
At 13.20:03 hours (15.20:03 CET) a warhead detonated outside and above the left hand side of the cockpit of flight MH17. It was a 9N314M warhead carried on the 9M38-series of missiles as installed on the Buk surface-to-air missile system.
Other scenarios that could have led to the disintegration of the aeroplane were considered, analysed and excluded based on the evidence available.
The impact killed the three persons in the cockpit and caused structural damage to the forward part of the aeroplane leading to an in-flight break-up. The break-up resulted in a wreckage area of 50 square kilometres between the village of Petropavlivka and the town of Hrabove, Ukraine. All 298 occupants lost their lives.
Source: Dutch Safety Board Report, ¶10l1
5
Recommendation
(A better way)
There were 8 NOTAMs in effect at the time of the crash, each of which had an upper altitude limit of something less than MH17's cruising altitude of FL330. When you read all 8 NOTAMS you get the idea something is very wrong with this airspace, but you have no idea what. But let's just look at the two NOTAMs that both top out at FL320 . . .
A1492/14 NOTAM
Q) UKDV/QRTCA/IV/BO /W /260/320/4822N03807E095
A) UKDV
B) 1407141800 C) 1408142359EST
E) TEMPO RESTRICTED AREA INSTALLED WITHIN FIR DNIPROPETROVSK
BOUNDED BY COORDINATES : 495355N 0380155E 485213N 0372209E 480122N
0370253E 471352N 0365856E 465018N 0374325E 465900N 0382000E
470642N 0381324E
THEN ALONG STATE BOUNDARY UNTIL POINT 495355N 0380155E.
RESTRICTION NOT APPLIED FOR FLIGHTS OF STATE ACFT OF UKRAINE.
F) FL260 G) FL320)

A1493/14 NOTAM
Q) UKDV/QARLC/IV/NBO/E /260/320/4820N03716E119
A) UKDV
B) 1407141800 C) 1408142359EST
E) SEGMENTS OF ATS ROUTES CLOSED:
T242 NALEM MASOL M996 ABUGA GUKOL
G476 MASOL OLGIN W533 TOROS KUBIR
L32 NALEM KW P851 LS NESLO
A83 LS DIMAB L980 GANRA TAMAK
W538 GANRA FASAD W633 LUGAT MAKAK
L69 LAMIV GONED W644 DON GETBO
M70 BULIG TAMAK B493 PODOL FASAD
L984 BULIG FASAD W531 KOVIL PW
M136 MEBAM DON M995 OLGIN PENAK
L140 KOVIL FASAD.
FM FL260 UP TO FL320
Source: Dutch Safety Board Report, Appendix D
If you were planning a flight at FL330 would either of these NOTAMS make you think your aircraft was in danger? Of course not. Even if you run that first NOTAM through a decoder, such as http://www.drorpilot.com/English/notam.htm you still don't have a clue:
Temporary RESTRICTED AREA INSTALLED WITHIN Flight information region DNIPROPETROVSK BOUNDED BY COORDINATES : 495355N 0380155E 485213N 0372209E 480122N 0370253E 471352N 0365856E 465018N 0374325E 465900N 0382000E 470642N 0381324E THEN ALONG STATE BOUNDARY UNTIL POINT 495355N 0380155E. RESTRICTION NOT APPLIED FOR FLIGHTS OF STATE Aircraft OF UKRAINE. F) FL260 G) FL320
So after the shoot down the Ukrainians did better, right? Afraid not:
A1517/14 NOTAM
Q) UKXX/QRTCA/IV/BO /W /000/660/4801N03731E117
A) UKDV UKFV
B) 1407180005 C) 1408172359
E) TEMPO RESTRICTED AREA BOUNDED BY COORDINATES:
495428N 0380202E 490600N 0365000E
481520N 0360510E 475542N 0355136E
460809N 0370518E 464700N 0373000E
465900N 0382000E 470642N 0381324E
THEN ALONG STATE BOUNDARY UNTIL POINT 495428N 0380202E CLOSED.
F) SFC G) UNL

If you are paying attention, you will see the affected altitudes are from SFC to UNL. But you still don't know that this is something that can kill you if you ignore it.
On 17 July 2014, the following flights were operated in UKDV by or on behalf of these operators. In total, 160 flights were conducted on this day until the airspace was closed at 15.00 (17.00 CET) see below:
AEROFLOT
AEROLOGIC
AIR ASTANA
AIR BALTIC CORPORATION
AIR EUROPA
AIR INDIA
ATLAS AIR
AUSTRIAN AIRLINES
AZERBAIJAN HAA YOLLARI
BELAVIA
CARGOLUX AIRLINES INTERNATIONAL
DEUTSCHE LUFTHANSA
DNIEPROAVIA
ELITAVIA D.O.O.
EMIRATES
ETIHAD AIRWAYS
EVA AIRWAYS
HANG KHONG VIET NAM
JET AIRWAYS
JET EXECUTIVE INTERNATIONAL
KLM ROYAL DUTCH AIRLINES
LUFTHANSA CARGO AG
MALAYSIAN AIRLINES
ORENAIR
PAKISTAN INTERNATIONAL AIRLINES
QATAR AIRWAYS
SINGAGPORE AIRLINES
SWISS INTERNATIONAL AIRLINES
THAI AIRWAYS
TURKMENHOVAYOLLARY
UKRAINE INTERNATIONAL AIRLINES
Source: Dutch Safety Board Report, Appendix R]
So 31 operators overflew the airspace and 8 avoided it. What did the 8 know that the 31 did not? Can we do better? Yes, there are two steps you need to add to your flight planning to avoid the fate of Malaysian Airlines Flight MH17:
Step One: Understand the Purpose of NOTAMS
As discussed in the article, The Notice to Airmen (NOTAM) System is Messed Up, the purpose of NOTAMS is to protect everyone except the pilot. If you have the ability to add to the NOTAM system, you will do so freely to protect yourself (not the pilot) from future blame should anything go wrong. Is there a chance an airplane can be damaged by a poorly lit sign? Write a NOTAM about it! "See! I warned you!" The result is too many insignificant NOTAMS that hide the important ones, and poorly written NOTAMS designed to protect the bureaucrat from other bureaucrats.
As pilots, we need to read each NOTAM suspiciously. What are they trying to hide?
Step Two: Improve your Situational Awareness with an Ally
As pilots we don't have the time to become political experts for every region of the world we find ourselves and we certainly don't have the expertise. But there are a lot of us out there and chances are someone knows something we need to get smart about. I recommend you arm yourself with a network of such people. I use the OpsGroup run by a friend of mine, Mark Zee. There you will find their most recent Overflight and Security Map. Here is a recent copy: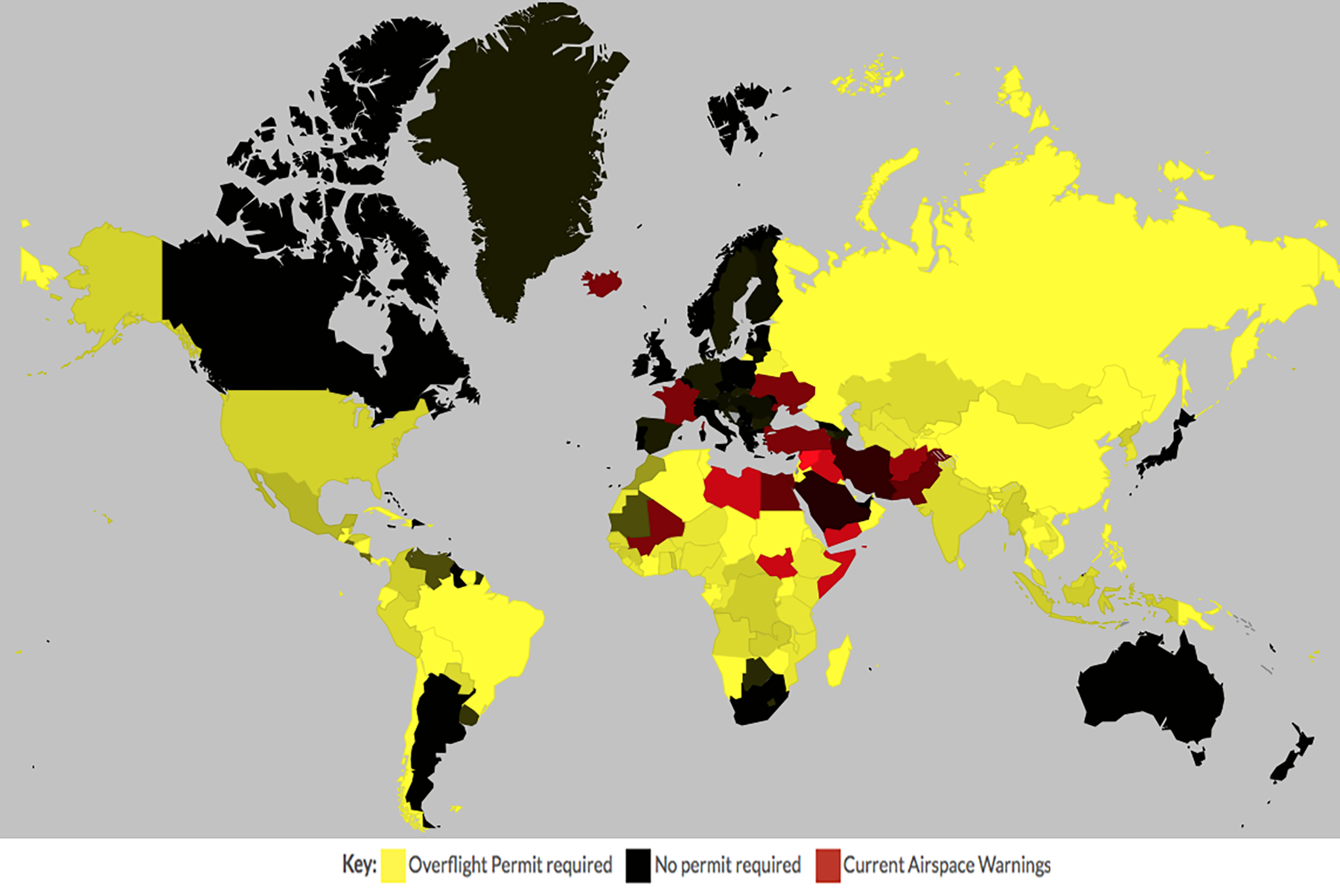 World Overflight Map, from OpsGroup, Airspace Summary
References
(Source material)
Crash of Malaysia Airlines flight MH17, Hrabove, Ukraine, 17 July 2014, Dutch Safety Board, The Hague, October 2015.